The rapid use of Mobiles or smartphones, across all sections of our society, has given rise to a new world of possibilities for all business. Now 'Mobiles' are more powerful than any other device in our lives.
Smartphones have shrunk the world into your palms. Now users have direct access to all important information 24*7 in their hands. You can imagine its significance from the fact that you may be reading this article from a mobile device. Aren't you?
Undoubtedly it makes a solid case to use this platform to market your services/products. Some interesting facts to support:
More than 80% people from all ages check their smartphones within 15 minutes of waking up.
More than 30% people of all ages check their phones within five minutes of going to sleep.
Overall, the average check out of smartphones for all ages is 47 times spontaneously per days. In case of teenagers, it gets almost doubles.
79% people have their smartphones with them for 22 hours a day.
Isn't it exciting to know that there's a tremendous opportunity to reach your audience anytime, anywhere? You may be amazed to know that the number of smartphone users has already surpassed the number of PCs in the first half of 2014 itself. See the below stats to check out for a fact: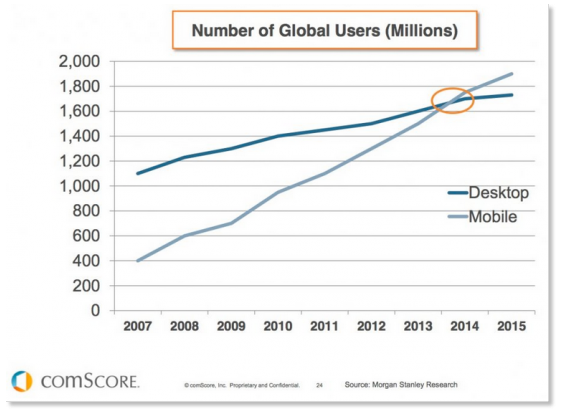 Let's take a real-life scenario – Go to any crowdy place like a train station, public offices or a cafe. You will find people busy with their smartphones, anonymously. Not just this, go to a park or visit restaurants where people come to spend time with their families, you can see the mobile in couple of hands. People don't want to leave their mobile even when crossing the road or while driving. Furthermore, see the infographics below to state the need of mobile marketing for your business.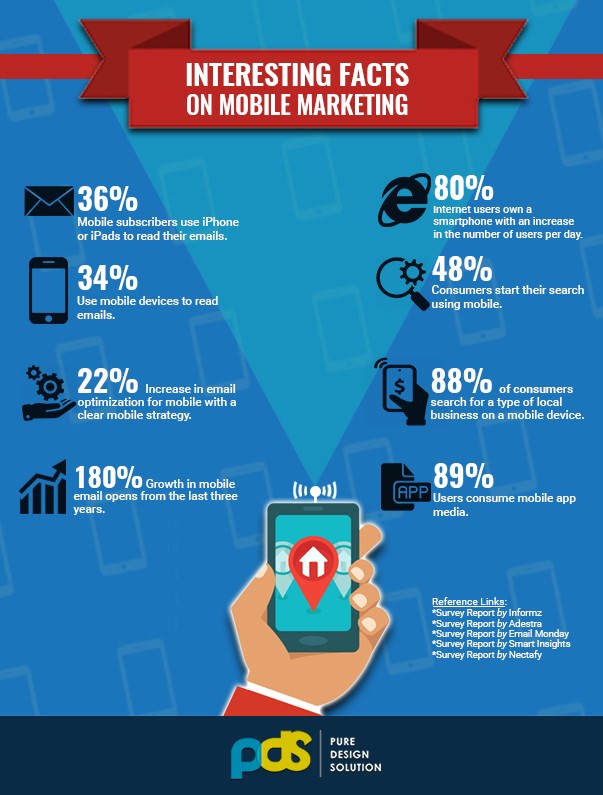 Just imagine the potentials market your products or services. But like any other marketing campaign you need to strategize and draw a game plan before you launch into action. You need to follow the path of initiating curiosity, nurturing the lead and converting them into your customers. Make powerful mobile marketing strategies to accelerate the results and achieve your marketing goals. Here are some ideas that can help you to start mobile marketing for your business in no time:
Mobile Display Ads Within 5-Mile of Radius: This is a great option for advertising if you are running a restaurant, coffee house, bookshop or other retail products. Location-based targeting on mobile will get you customers at your doorsteps in no time.
Organise a Mobile Survey for Your Products or Services: Use TwtPoll to organize mobile surveys. You can do this when you are doing something 'LIVE' such as doing speech, Facebook Lives. It is a great way to keep the audience engaged.
Optimize Your Website with Mobile-Specific Keywords: Add mobile-specific keywords to optimise your website or blog. For example: if you are running a beauty centre then you should not just optimise your site with 'beauty centre' keywords. Optimise it with keyword 'beauty centre locations' to get mobile traffic. By adding location-based keywords, you can target mobile visitors as well.
Use a Mobile Website Grader Tool to Check Insights of Your Mobile Site: Using mobile website grader tools, you can check insights how well your mobile website is running.
Send Customers Special Discounts on Their Mobile: It is a great idea to engage your audience. A customer can be offered a special discount when he subscribes, download any mobile app or buy a service.
Connect Your SMS Campaign: Organize SMS campaign to get maximum traffic in that time span such as weekend Sale – coupons to enroll, to buy, to visit or whatever is your requirement.
Barcode Scan Promotions: It could be the best idea to find the prospect customers. Send a barcode to your customer to scan and get amazing discounts.
Create a Sense of Urgency: Mobile offers work better for a limited time. So, always mention the timeline like "limited time offer" or "expires soon" as part of the promotion.
Bounce Back Offers: These types of offer increase the chances of repeat visitors.
What would be your strategy or tell us which of the above will work better for your business? Share your ideas related to mobile marketing with us at info@puredesignsolution.com or contact us here. You can also drop your queries in the comment section along with your contact details.
Stay tuned to our Facebook and Twitter page for more exciting tips and to know more about us and work style. You can also write us to discuss other powerful marketing mediums.