We all know that SEO is the most trusted and strategic way to generate or drive more traffic for any website. But SEO is not the only way you can bring more visitors to your site. Things have changed, or I would say people are getting much smarter and search engines have changed radically. To attain maximum benefits from your digital presence, you need to use the web more in your favour. And for that, it is essential for you to know how to diversify all traffic that comes to your website from different routes.
"Opportunities don't happen overnight. You have to create them"
In fact, I'd suggest you should try all possible ways to boost your website traffic without relying only on SEO. Look around; there are multiple options available today that can help you diversify the traffic coming to your website from numerous online channels. By selecting multiple channels you can ensure that your website ranking doesn't get affected when Google updates its algorithms or launches new add-ons.
Are you ready to explore some new tactics and triple your traffic?
Let's begin with a simple question?
Is all traffic equal or worth for your website?
Clearly, the answer would be a big NO. Some sources are very good that can give you a high-quality traffic with a good conversion rate and some sources are not worthy at all. That's why it is important you should not overlook the authenticity of the site or source from where you are redirecting the traffic or visitors are coming to your website.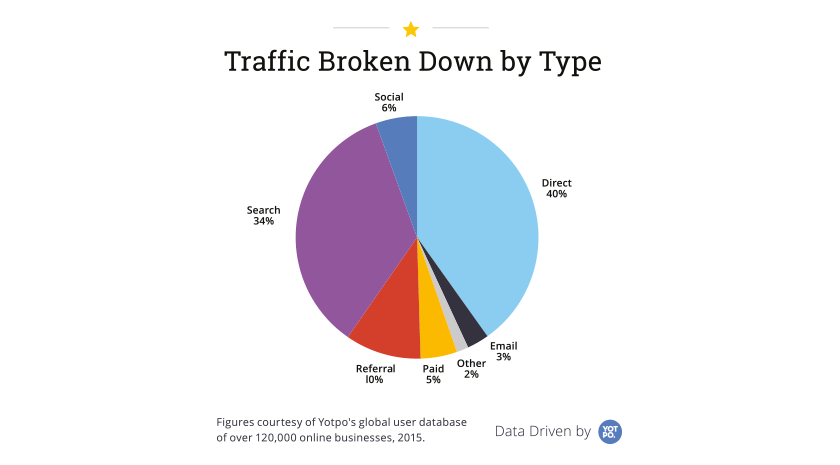 I would suggest being extra cautious because some links are spammy and can downside your current ranking. Here are the top 5 tactics that I recommend to generate more visitors or drive more traffic to your website with reliable results.
How to Boost/Increase Website Traffic without SEO?
Guest Posting and Blog Commenting
By "Guest posting" I mean contributing your content to another website or blog in exchange for a link back to your own site. These links can either be placed in the author bio section or used to cite information within the body of the post. This method has been quite popular over a past period of time as it's a win-win for both sites: One side gets free content to share with his audience, while the other earns a high-quality link.
However, to maximize your results you should do proper research first. Find out the list of bloggers who share really-really good content and have a genuine list of users. Also, research whether the readers on their site match to your target audience.
Some high-ranking sites, from where you can drive high-quality traffic, are Medium, Reddit, Quora, etc. You can re-share your original content there and can diversify those visitors to your website. Similarly, you can find hundreds of other channels based on your industry niche that accept guest postings. Apart from guest posting, you can start with blog commenting. Leave your comments for blogs that you have found useful because that is also one of the good ways to get visibility among their readers.
Social Media Activity Can Do Wonder:
No one can deny the role of social media in our lives today. You can utilize the power of social media to increase your website visitors and find your target audience. One way to influence your target audience is doing social media advertising with some attractive giveaway. Either you can boost your post based on your required audience parameters or you can join specified groups in the most comfortable or appropriate social channels and do spreading about of your products or services.
Note: You can do Online Assessment with us to know your targeted audience and understand their behaviour.
Be cautious because you can be restricted by Group admins if in case, they don't allow direct selling. If you repeatedly face this issue you can play with words or prepare your content so strategically that it should come like a relevant information article instead of a direct sales pitch.
Another important thing is to identify which social media channels would be the perfect choice to promote your business. Where you should put more focus – Facebook, LinkedIn, Insta or any other. After knowing that you can optimize the channel as per your industry requirements with a right social media strategy or I can help you plan a result-oriented social media marketing strategy for your business. Believe me, if you do it strategically, social media can do wonder to increase your traffic and bring conversions.
Don't Overlook Email Marketing
Email marketing is still one of the best ways to drive traffic to your website. If done correctly, it can easily double your leads in a short span. It is one of the most trusted ways of brand building and connecting with potential clients, and also a great platform for making new ones. Despite being one of the oldest platforms for marketing, it is one of the best platforms to reach your targeted audience and quickly scale your business.
How does this add to the website traffic? Take an email campaign approach rather than doing one-off email blasts. A campaign usually has a landing page, which is part of your website. This will act like a honeypot and allow you to collect information about your site's visitors and use it back in your marketing efforts. When you execute and send out mailers to your email list, not only will you see people visiting your website but also leaving their information and engaging with the page.
To know more about email marketing ready our article – Top 5 Free Email Marketing Channels to Boost Your Business.
Note: You should also check out our another post – Why a Small and Mid-Size Company should Choose MailChimp among 100s of Email Marketing Software?
Reuse Your Old Campaigns
The traditional way of thinking about content-led campaigns was much similar to PR campaigns – you run a campaign for a period of time, get as much as you can from it, then move onto the next one. Although, the sequence is fair but who says you cannot use something that has worked in the past to bring more results.
However, it's not always easy to utilize the same piece of content, but definitely not impossible! The trick is to work on the previous campaign and take it a couple of steps ahead. Here is an example of a piece that was built for Vouchercloud by a popular site:
This data piece was originally populated with data from the World Health Organization in 2016, then, in 2017, a new data set was published. Simply, they took out the old data, plugged in the new data, updated the design which was minimal effort, then relaunched the content.
So the previous contacts with newer data helped them to get more coverage as well as approaching brand new websites with newer set of information.
Again, I must say the ability to reusing the existing content campaign can allow you to relaunch very quickly, compared to a brand-new build and design. Remember your relaunching should be more powerful than previous. Try maximum ways to utilize its potentials. You can publicize it in webinars, videos, slide share and everything that can give you the new customers along with retaining the old one.
Setup Affiliate marketing
You can leverage traffic from other high profile sites by setting up affiliate programs with their publishers or admins. You will end up paying a small commission but this only happens once the sale is made through the third party website traffic. So it is perfectly safe and easy to set up. You begin by doing your research and identifying the best-suited affiliate marketers who will help drive traffic and conversions on your site. It is quick and can be kept on auto-pilot once the set up is complete.
Takeaway
I encourage you to explore these smart ideas to drive more traffic to your web portal. Remember, I am not saying to ignore SEO. Just go beyond SEO. I have some more ideas that I will discuss in my next post.
Till then, feel free to let me know what you think about this post or share what you are currently doing to drive more traffic on your website.
Feel free to write to me with your queries at info@puredessignsolution.com or call me at +1 469 345 2968.  Always happy to help!
Stay tuned to our Facebook, LinkedIn, and Google My Business Page.